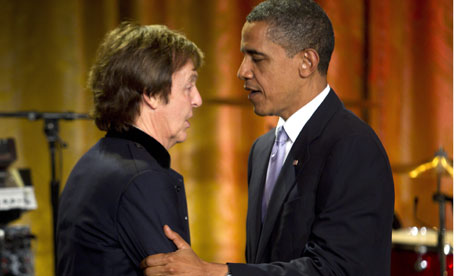 Whatever your opinion about President Obama, there is no doubt that it has revived the spectacular number and quality of performances at the White House.
Look no further, "Paul McCartney: The Library of Congress Gershwin Prize for Popular Song Performance at the White House," recorded at the beginning of last month and projection on PBS on Wednesday, the fourth power "running" show so far during young administration.
The show opened with remarks by President Obama agitation. "It's hard to believe it has been almost half a century since four lads from Liverpool came to our shores and everything changed overnight," he reflected. Then it was time for a parade of old and young stars to honor the voluminous catalog and McCartney earned this honor.
Among the highlights were in abundance. Stevie Wonder super tight "We can Work It Out" featured a harmonica solo half, while Elvis Costello fairly happy "Penny Lane", boasted a piccolo trumpet solo even more enjoyable. Emmylou Harris shone in an acoustic "For No One." Dave Grohl wore biggest smile of the night as he tore through "Band on the Run." Jack White's offer "Mother Nature's Son" / "That would be" captured some of McCartney medley dreamers charm.
Interspersed with these were among ... not as high. I'm not sure anyone other than Sasha and Malia Obama needs to listen to the Jonas Brothers' jurisdiction if cutesy "Drive My Car." (To be fair, McCartney and Wonder were visibly grooving during this operation.) Random Jerry Seinfeld stand-routine fell flat when he riffed on the songs of The Beatles to stale "marriage, am I right?" shtick. "Faith Hill Long and Winding Road" was a bit corny for my taste.
McCartney was particularly wonderful, humble and humorous. Anyone who has seen in concert recently, I can say that he is still youthful energy all at 68, though his voice sounds a touch rough around the edges here and there. There was a grand old time with songs like "Got to Get You Into My Life", "Michelle" (by the first lady in the audience), "Ebony & Ivory" with Wonder, "Eleanor Rigby" and "Let It Be," the simple transfer of forever. "I do not think there could be nothing more special to us to be doing here," said McCartney, just before the "all inclusive" "Hey Jude" Interactive. "And we're thinking about making it a regular thing. South, could come around. 'If only!